My son went to Dresden and all I got was ….
Chokoladepigen! Jean-Étienne Liotards fine pastel fra 1743-44 som hænger på Gemäldegalerie Alte Meister i Dresden.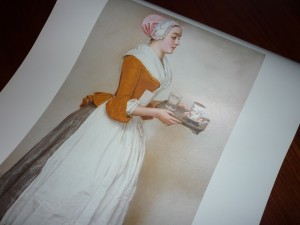 Jeg har altid syntes, at det var ret fedt i sin uhyre enkelhed og lækre stoflighed. Der er næsten intet rum omkring hende, den lyse baggrund og de rå træbrædder er det eneste, der antyder det rum hun befinder sig i. Kun i reflektionen i glasset bliver lyskilden klar – vinduer. Det er måske en anelse kitschet, vi har i hvert fald ret svært ved at blive enige om, hvor hun må hænge herhjemme.